Very good
Ideal for special occasions
Positive
Good taste
Ideal environment
Decor
Excellent attention
Variety of food
To improve
Portions a little small
High prices
Many people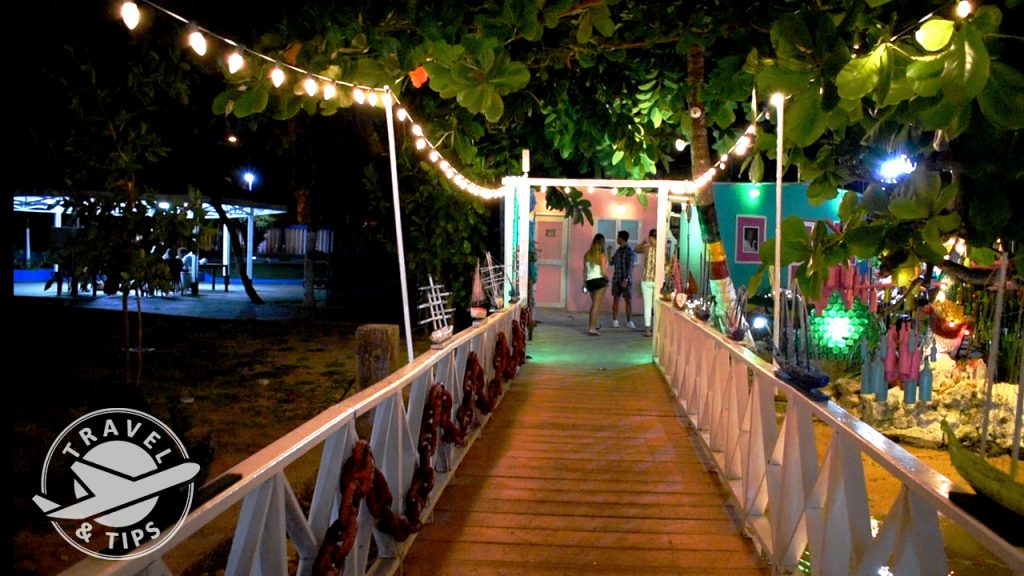 Our flight arrived in the afternoon and after accommodating our luggage we went to a magical place, in advance we had made a search on Tripadvisor about the best restaurant on the island and found that the first place is occupied by La Regatta restaurant, we read excellent reviews and we want to confirm them, that is why we reserve a table one day in advance through the website: http://www.restaurantelaregatta.com/ is located near the pier, the exact address is Av. Newball, Carrera 3 – 121, next to the Yacht Club.
Recomendaciones
It is advisable to make a reservation one day prior in high season, if it is low season you can make the reservation in the morning. the restaurant operates in two hours, from 12m to 2:30 pm for lunch and from 6:30 pm to 10:00 pm for dinner. Being a prominent restaurant is visited by many people, our second recommendation is that if you go to dinner, reserve type 7pm, early, this because you have a reservation for 8pm, if people who are before have not left, you should wait.
First impressions
Upon entering you will be surprised by a vibrant and colorful typical Caribbean decoration, a mini city with island heat, ornaments made with recycled material, bridges with romantic lights everywhere, the interior presents collection of vintage objects, photos and marine items. It arrives with time since you are going to want to take many photos before sitting at the table.
After crossing the bridge you see the restaurant proper, a well decorated piece, a pier with the best tables, surrounded by crystal clear water with hundreds of fish inside and illuminated with reflectors.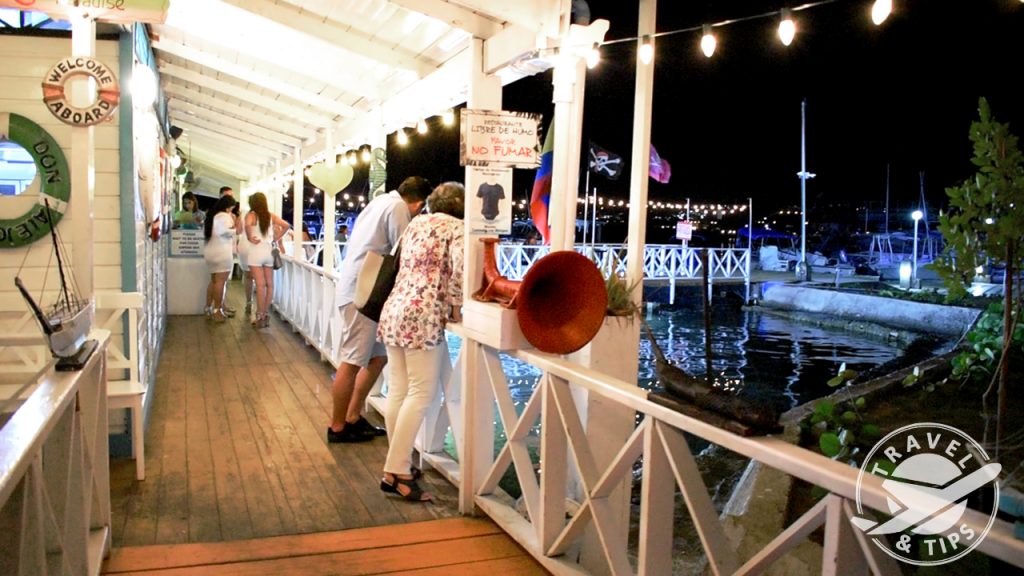 You arrive at the reception and they place you, if possible request the tables outside on the pier, attend your special requests to celebrate birthdays, anniversaries or whatever you have in mind, the staff is very helpful and never refuse if you ask them to accompany you to sing happy birthday.
Prices
The menu is quite varied, with prices ranging between 30,000 and 100,000 Colombian pesos, about 10 to 33 dollars. the price is right for an elite restaurant although there are other excellent restaurants on the island at a slightly lower price. Obviously everything it's about sea food, there are few dishes that do not contain any fish, so if you visit this beautiful place you should love seafood. You can check the menu with updated prices on the website of the restaurant.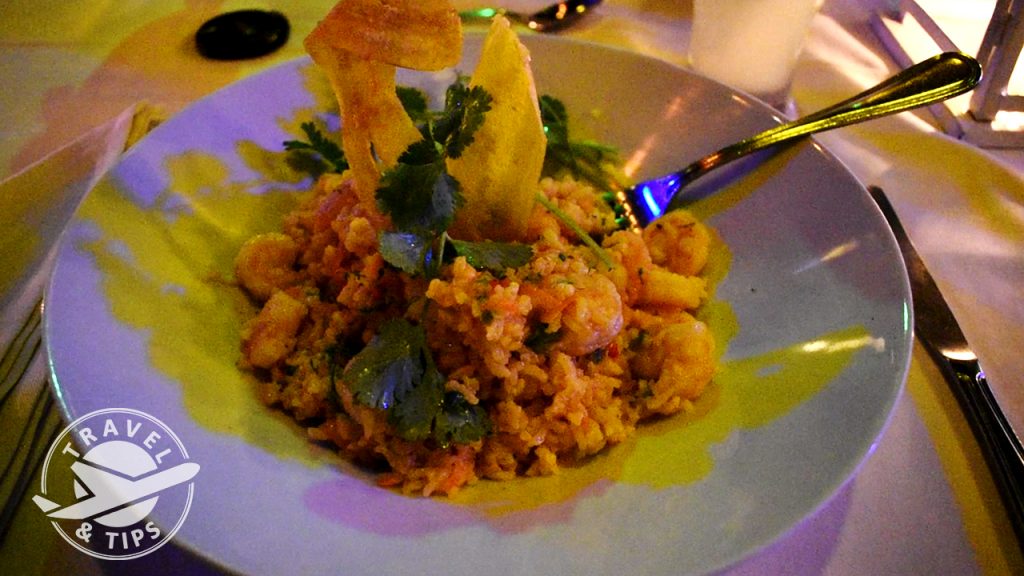 We select a "Arroz Del Mar" (45,000 COP – 13.7 USD) (Rice from the Sea) and a Salmon Yellow Moon (46,000 COP – 14USD) and while we wait for its preparation we ask for an exquisite entry of South West crab dough, I can say that all the food has a good flavor, good presentation and an adequate waiting time, do not forget to accompany your Food of a good white wine, pink or a young red according to the dish you choose.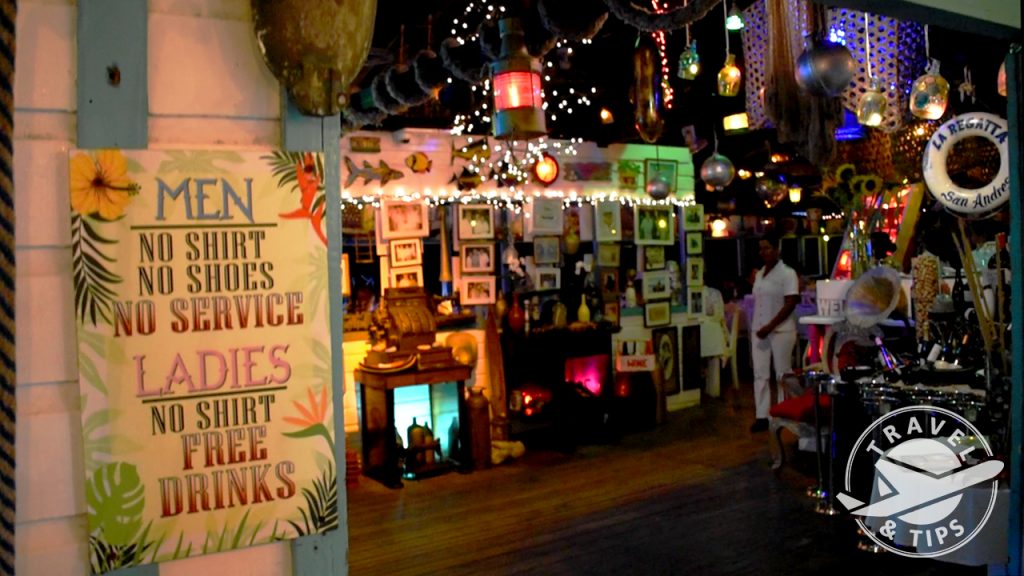 Dinner
The atmosphere is very nice, the weather is cool because of the sea breeze that comes directly to you, they also have fans at various points. They light a cute lantern with a candle that gives a romantic touch to your evening. It is a perfect place to dine with your partner and celebrate special occasions. The only negative point is that on the reservations page there is a field where you can put comments to request something special as decoration depending on the occasion and although we requested birthday decoration on arrival there was nothing, so if you want some special decoration it is better to call directly.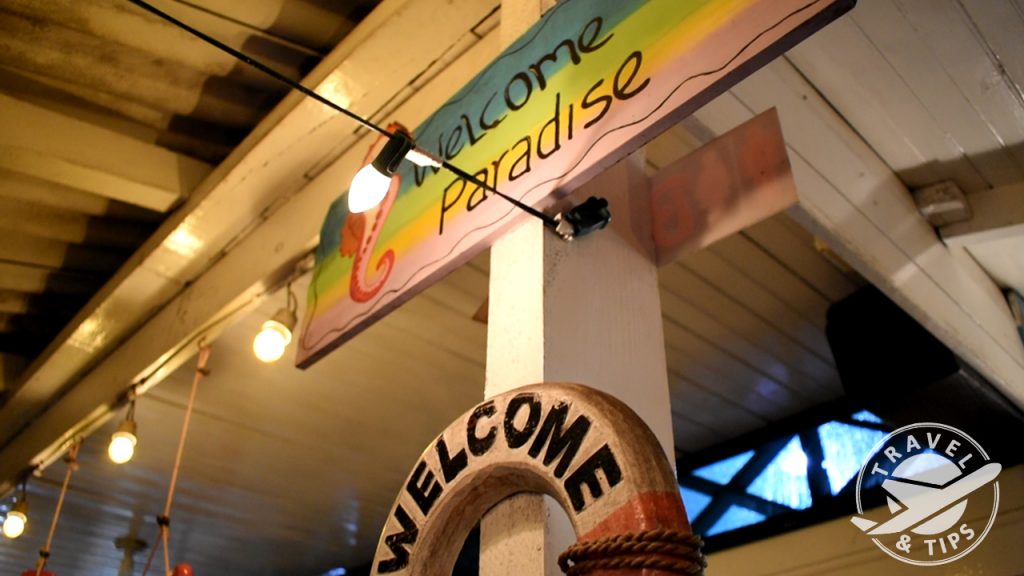 To finish the dinner we wanted to check what many reviews on the Internet said: "coconut pie is a must", because although we were quite satisfied we tried one and they are right! It is delicious, a well balanced dessert, in no time feels saturated, I recommend them completely.
Location: