A paradise on earth
The most exclusive beach in Aruba
Positive
Tranquility and privacy
Variety of fauna and flora
Flamingos!!
Excellent service
Good food
If you visit Aruba, an unmissable plan is to visit the most exclusive beach, Flamingo beach, located on the private island of the Renaissance hotel. Surely planning your trip you have seen flamingos in advertising in Aruba, we tell you that the flamingos are only in this private island, the good news is that anyone can visit and take the pictures with these animals.
How to visit it?, How much?
There are two ways to enter the island, staying at the hotel which has a price of approximately 400 dollars per night which allows you to visit the island at any time and the times you want or the second option is to buy a day pass at the hotel reception , the cost of this trip for 2019 is USD 125 per person, includes the transfer to the island and lunch. I personally believe that it is better to stay at the hotel, you can go without waiting in line up so early, however the hotel accepts reservations of at least 2 nights.
To buy the pass you must arrive super early to line up at the reception, tickets start selling at 7am and only sell 25 daily passes, so at 6 in the morning there are already people waiting, after waiting 1 hour we reach to buy the passes, we met people who were in previous days and had not reached, they limit income so as not to disturb and protect the animals of the island, another fact to keep in mind is that on the island there are two beaches, flamingo beach and iguana beach the most desirable is flamingo and children's access is restricted, they are only allowed for one hour and then they must go to iguana beach. This is a plan to go as a couple to visit as a family.
Sailing to the flamingos island
After buying the passes we boarded a boat on the pier inside the hotel, it is not allowed to bring food, drinks or radios, we crossed the marina of Oranjestad, surrounded by luxurious yachts with the sun rising little by little, the journey takes about 15 minutes , when we arrive we see great vegetation, mangroves and birds that start a new day, the crystal clear water invites you to immerse yourself in it, it is really a paradise.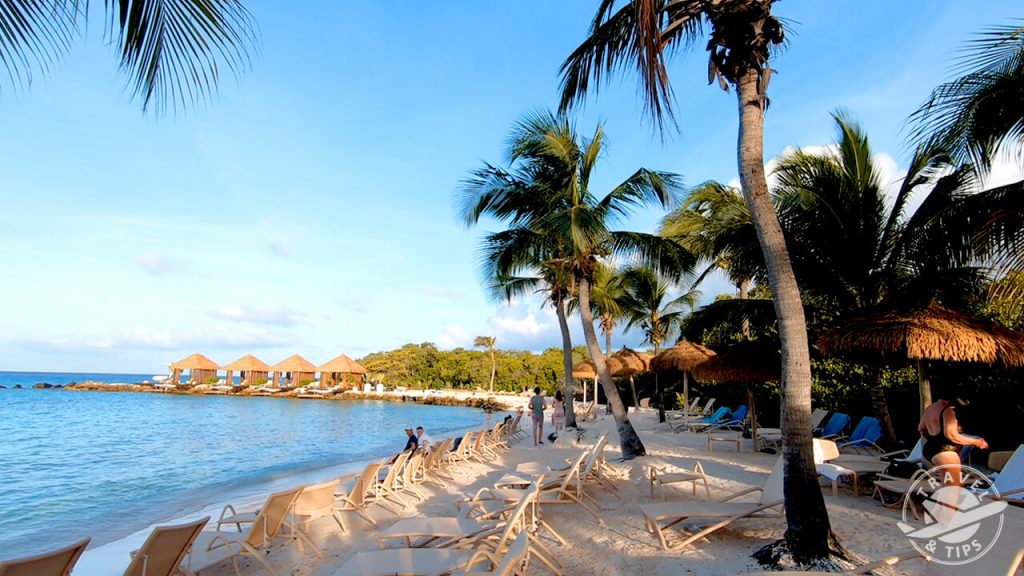 You can go to iguana beach or to flamingo beach, we chose the second, mainly because to attract the flamingos you must provide them with food and they feed in the early morning hours. if you arrive after 10 am the flamingos will have eaten and it will be more difficult to attract them, at the entrance of the beach you will find the food dispensers, 25 cent coins are needed, if you take them in advance you will save a lot of time.
The birds will also be watching the food so if you like them you can easily attract them, there is a great variety. although we arrived in one of the first boats there are already several people posing next to the flamingos, little by little they take turns to take the best picture, they are only 6 flamingos at this moment.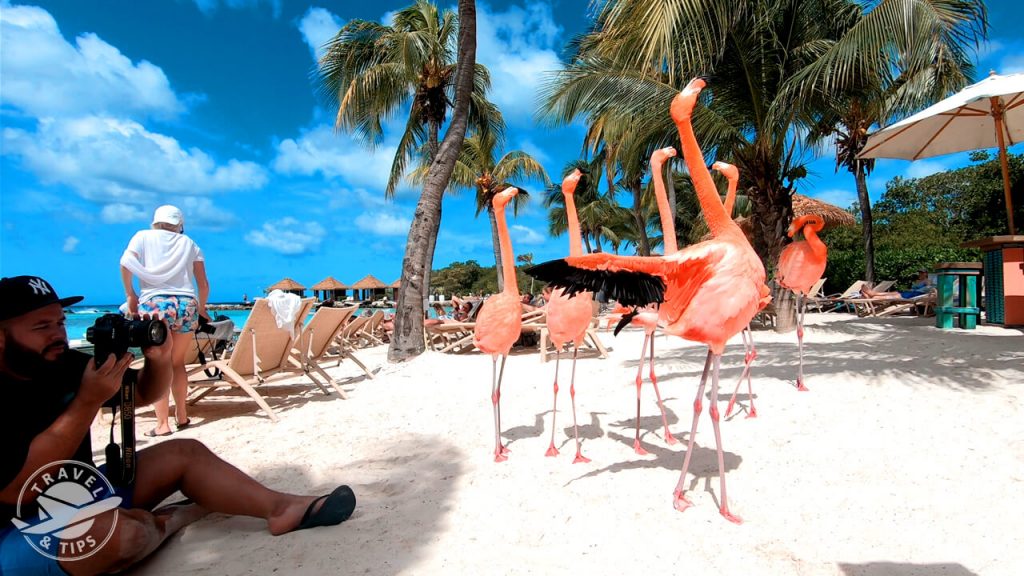 Something that is not normally known is that these are captured animals and have their wings trimmed to prevent them from flying off the island, naturally the flamingos would not approach the people but here they have already domesticated and come frequently.
Other attractions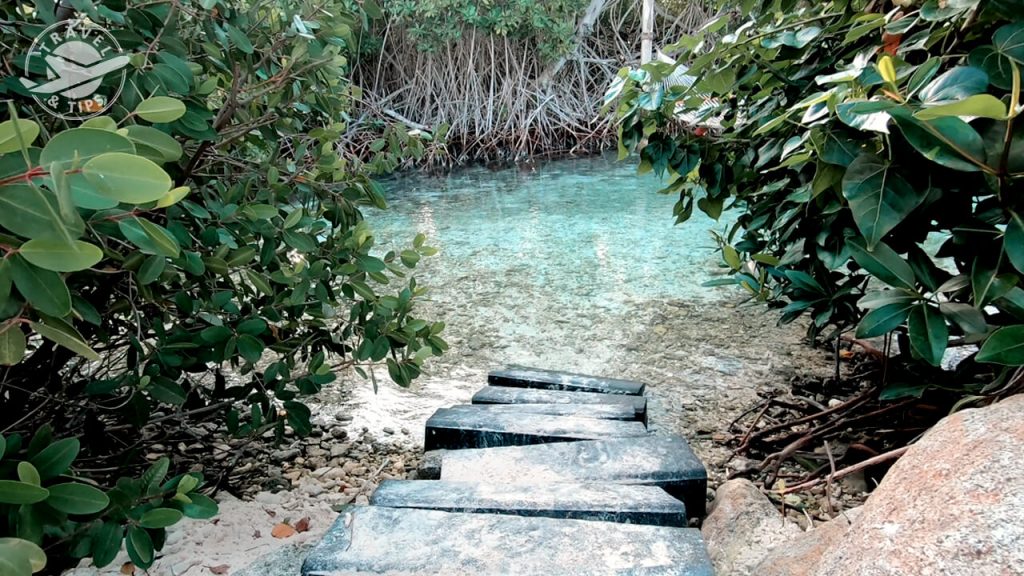 The island is wide and has many other attractions that are usually not discovered, so we walk to discover it completely, has well marked trails surrounded by lush vegetation, there is a kiosk where you can ask for towels with your ticket, you also find a boutique by if you need to buy something that you forgot, in front of the beach of the iguanas you find the restaurant and bathrooms, inside we got a surprise, 4 baby flamingos, they are white, they do not even have their own rose and they are very fearful, they will not come near you.
If you want to exercise to start the day you can visit the gym or the tennis and volleyball courts, few people come here, it is normal to be all day at sea and on the beach.
Private cabins V.I.P
If you want to have a full day of relaxation without being disturbed by other people and even without being disturbed by flamingos, there is an even more exclusive option: it is a cabin on the sea shore.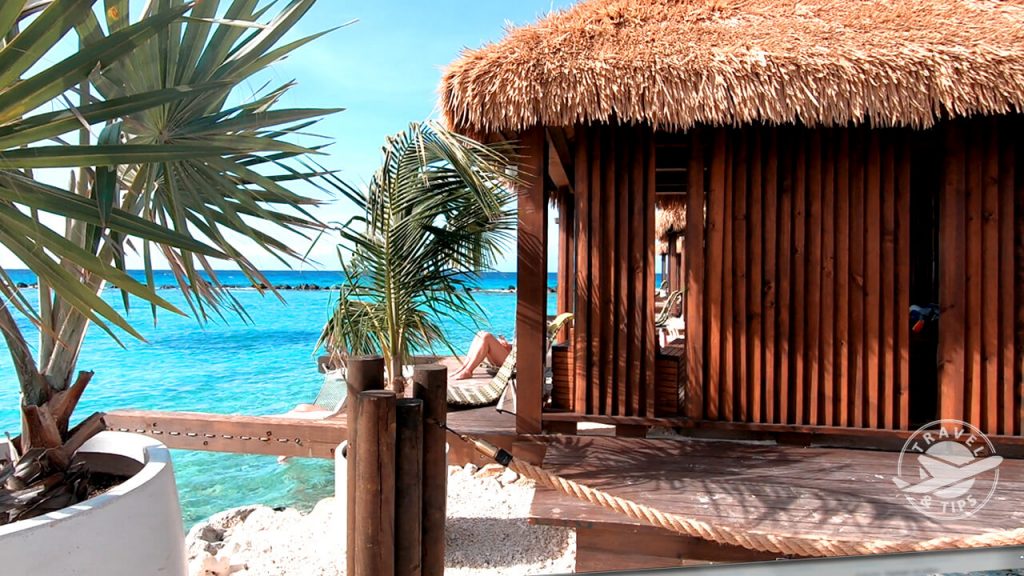 You can see them from the beach but you can not enter there without making the reservation in advance, they are the ideal place if you do not want to move around all day and tan calmly, they have an additional cost of 250 USD. You will have a private shower, drinks and food service without having to leave, a small refrigerator with a bottle of champagne, comfortable furniture and even masks to practice snorkeling in case you tire of so much relaxation.
Restaurant and food
Arrivals at 10 am we let the flamingos rest and we have breakfast (not included), the restaurant is kiosk type, in front of iguana beach, spacious, with a relaxing atmosphere, the gentle breeze lull the palm trees and the turquoise sea hypnotizes you while you drink a fresh orange juice, we ask for a fruit dish and the attention is excellent, even remove any fruit seed so that your experience is perfect.
Fishes & Snorkeling
The beaches are separated by small streams where you can throw the same food from the flamingos and fish of all colors will come to eat, they are shallow so you will see them in all their splendor, also in one of these you will find two hammocks to rest or take one of those famous photos on Instagram. If you want to see even more fish you can dive into the sea of one of the two beaches and swim to the rocks in the background, there you will find a treasure in underwater life, hundreds of fish are grouped and it is the best place if you want to practice snorkeling.
After midday the flamingos will be tired of so many photo shoots and they need a rest so they go to sleep, it is important that you do not bother them, they just need a little nap and they will parade all over the beach again. Meanwhile you can go enjoy the lunch that is included, you can order any dish from the menu, we tried a beef tenderloin with vegetables and a spaghetti with seafood, both very well prepared, especially the meat.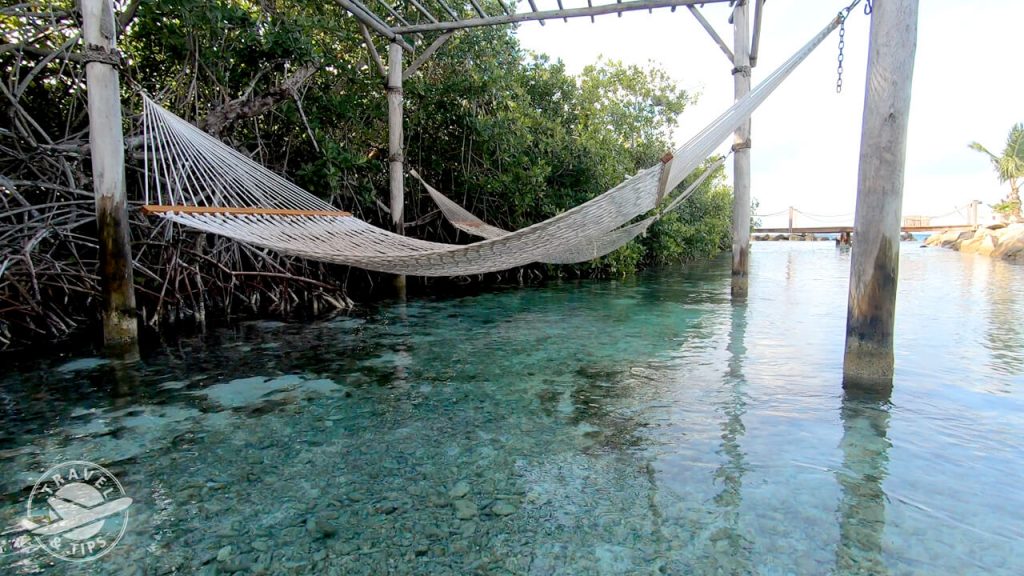 We had not seen a notice in which they reported that a wedding would be held on the flamingos beach, so today they would close it earlier, at 4:30 p.m., so we will enjoy the little time that remains. to organize the chairs and even a floating platform in the sea where the couple will be, if you are looking for a magical place to marry, without a doubt this must be an option. little by little the guests arrive and it is time to leave, a magnificent day in an excellent place. completely recommended
Location: