Excellent option for vacations
Everything for rest and vacations, central and very touristy.
Positive
Variety of restaurants  
Good hotels
Centralized sector
Excellent beach
Palm Beach, one of the best known sectors worldwide and flagship of Aruba, concentrates most of the tourist activity thanks to its variety of sites, largely because of the beach that bears its name but also because of 5-star hotels. This beautiful beach with white sand and crystal clear water is among the best in the world, calm water perfect for a family day out. We went through it in its entirety and we will show you the best.
Location and How to get there
The main sector of Palm beach stretches for about 3 km, it is adjacent to Eagle beach and if you go by private car you arrive quickly by the main avenue L.G. Smith and then you take the JE Irausquin, it takes you about 10 minutes from Oranjestad, It is only 6 km from the capital city so you can use many means to get there, if you rent a bicycle and like sports you can get there in about 40 minutes Taking the JE Irausquin from the beginning, you can also arrive in Arubus, route L7 OR L10, you arrive in 15 minutes.
What is the best place on the beach?
In Aruba the beaches are public, this allows you to visit them in their entirety, however in Palm Beach the large hotels have been built on the beach line and make access to the beach a bit difficult since there are no visible entrances. the entrance itself is at the end of the beach; it is far from commerce and activities. However, between each hotel there are small alleys or corridors that will take you directly to the sea. We enter through the corridor between the Riu Palace hotel and the Hilton, you will find a sign that says "From Palm Pier" you walk about 50 meters and you will find an enchanting landscape, crystal clear water, palms and bushes on the side and side of a pedestrian path that covers the best of this beach.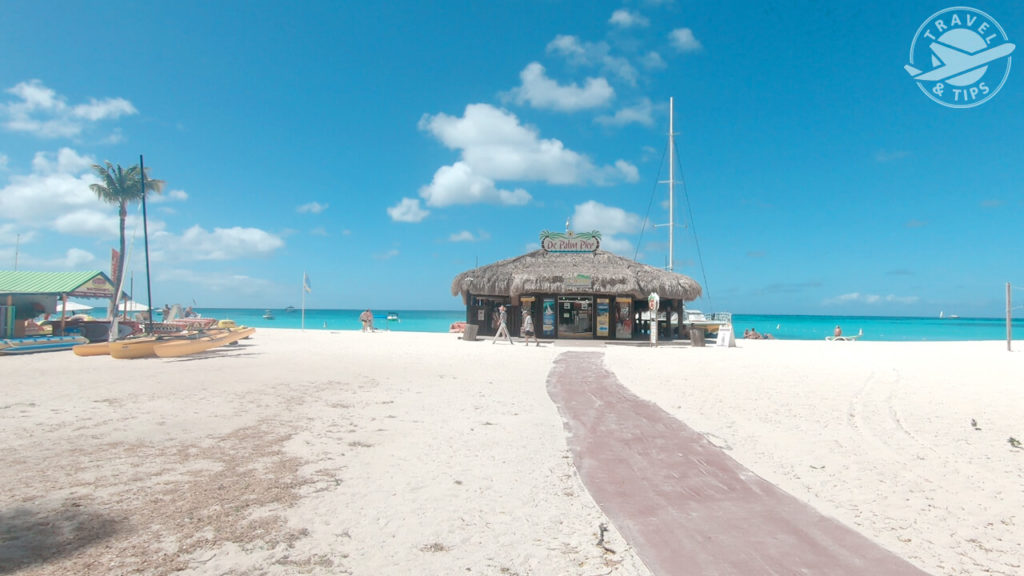 Walking the beach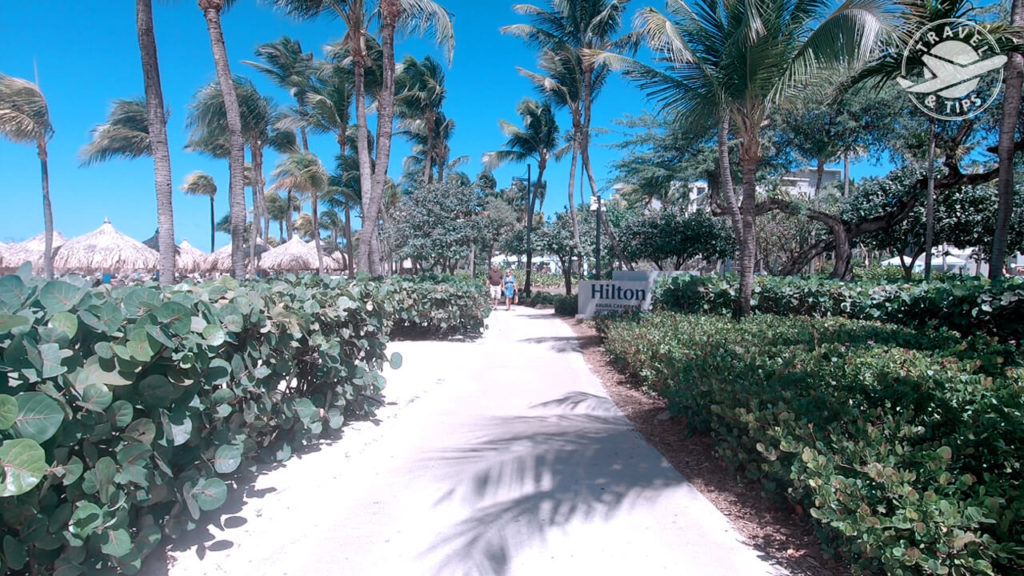 We walk along the path and we find bars, shops, restaurants and activity centers, so it all depends on your taste, if you want to do water sports you will have countless options. Have something cool in front of the beach or simply enjoy the warm and crystalline sea, it is noteworthy that the water here is extremely calm, there are no waves, it is perfect to be with children and family, the seabed is soft sand and It does not have coral formations, so it is excellent for resting and not so much for snorkeling.
As you learn more about this sector, you discover charming places to take a photograph to remember, there are natural and man-made places that will surely have many likes on your social networks.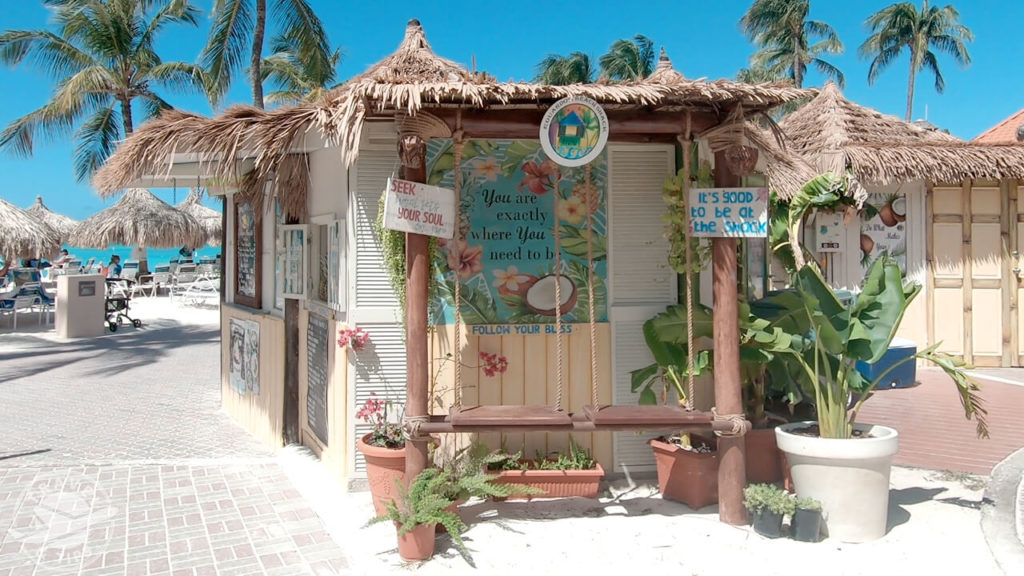 A well-known bar / restaurant is "Pelican Pier", it is a cabin built on the water in which you find a variety of seafood, many tourists visit it so sometimes it gets very crowded and they take time to serve you, however the view of Palm Beach It is spectacular.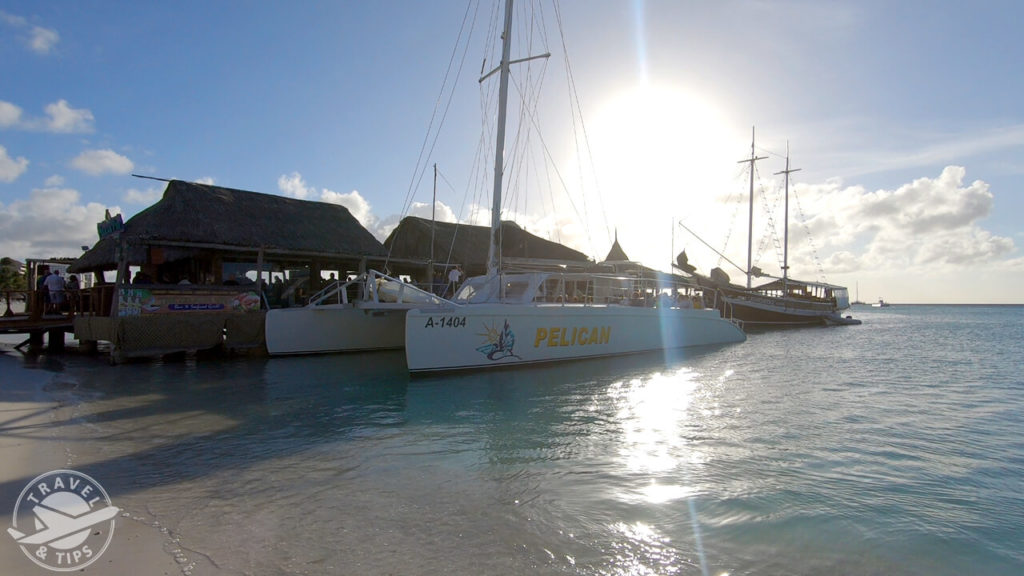 They offer catamaran excursion services and can close the restaurant to serve people who purchase these tours, in these cases it is advisable to make a reservation but most of the time it is open to everyone. The prices are according to the most exclusive area of Aruba, if you wish, you can find cheap options on the beach even with excellent quality. For lunch we visited a restaurant next to the Marriot hotels, next to the beach and we ordered take-out, a couple of shrimp sandwish with fries for 16 USD each, large, very good flavor and we enjoyed them over the beach.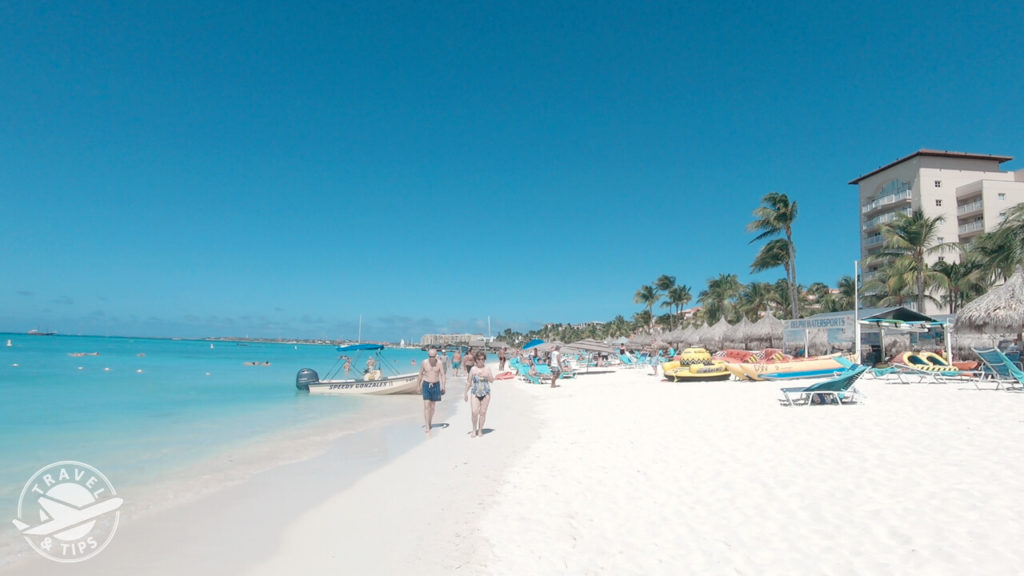 The atmosphere is one of total joy, the hotels have directed recreation and everywhere you listen to music. If you are looking for relaxation and tranquility it is not highly recommended. Additionally, there are many people, this area has multiple accommodations and is preferred by tourists from all over the world, especially from the United States.
As you walk, you pass world-famous hotels such as the Riu Palace, Hilton, Hyatt Regency, Holiday Inn, Marriott and the most exclusive on the island, the Ritz Carlton. This path gives you the opportunity to see each of them, their restaurants, bars and swimming pools, there are no barriers or divisions between the beach and the interior of the hotels but do not forget that they are private property and if you have not stayed in them, you should not use their facilities. If you are looking for a cheap accommodation option you can find simple hotels or apartments for rent, as you move away from the beach the price decreases.
Water activities are very popular on the beach, you will easily find kiosks or cabins of tourist companies that offer you all kinds of water sports, such as jetski, parasailing, tube rides, kite surfing or diving excursions. some known sites for this are "Jolly pirates", "Octopus", "Delphi watersports" and "My Dushi"
Commerce and restaurants
While it is true that Palm Beach is one of the best in Aruba and world-renowned, not all the charm of this district is found there, behind the coastline you find shopping centers, bars and many restaurants, you can walk and go shopping, you will surely find everything you need. We recommend you visit the Palm Beach Plaza Mall and the Paseo Herencia Mall, the first of modern architecture and the second of classic type and more in line with Aruban architecture. both are in the center of Palm Beach
Night life
The sunset is a real spectacle, the sun in the distance fills the sky with colors, the lights of all the hotels and establishments turn on, people change their clothes and go to the bars, whether they are the hotels in which there are night shows or outside bars. the party atmosphere stands out and the island's famous casinos attract many people. In Aruba after 6pm all shops are normally closed but in Palm Beach they wake up at this time, precisely because of the closing of shops so early in Oranjestad and San Nicolas, all tourists migrate to this area in search of activities and it gets a little congested. A place and environment conducive to meeting people and especially having a good time. Don't forget to visit this side of Aruba on your trip.
Palm Beach is undoubtedly one of the most iconic and well-known sectors of Aruba, you must surely visit it, it is quite large and has many commercial premises, even if you have visited it before, each time you return it will surprise you.