All you may need
If you spend several days on the island or want to buy something to take home, visit it!
Positive
Variety of products
Large
To improve
Close early
The price is a little higher than in other stores
After a day at the beach we need to buy some things for our stay, we are staying in an apartment and we can cook simple meals, prepare eggs, sandwiches and things like that, so we look for a supermarket and there aren't really many, in the neighborhoods we find Small shops, mostly of Asian owners with little variety, searching the Internet we find that the largest on the island is Super Food Plaza, it is located in the Eagle Beach area, so it is very central, in front of Lloyd G. Smith Avenue , it is very easy to arrive by public transport or private car.
Location and opening hours
Address: Bubali 141-A Noord, Aruba
Phone+297 522-2000
Mon to Fri 8:00 am – 8:00 pm
Sun 9:00 am – 6:00 pm
The day before we arrived at night and they had already closed, you must arrive before 8pm; For those who live in big cities it may be a little early, so arrive early, it is also quite wide and you will want to travel all its corridors.
First impressions
The parking lot is large, however this place attracts many tourists and sometimes it gets crowded, you can go around the supermarket and in the back there are some places where you can leave the car. They even have chargers for electric vehicles.
As soon as you enter, you can see its amplitude, on the right you will find the liquor section that is separated as in European supermarkets, in Latin America it is not very common, in case you do not know them they are like an independent store to better control buyers. Within the Super Food you will find beers but if you want a stronger liquor you must buy it in this unit.
In Super Food Plaza as in all of Aruba, you can pay in dollars or florins (the official currency) although if you pay in dollars keep in mind that prices round them up for what you pay a little more. if for example a product costs with the official conversion 11.3 usd in all of Aruba they approximate it to 12usd. They also receive all credit cards. In the products you find the price in both currencies so it is very easy to make accounts.
Our tour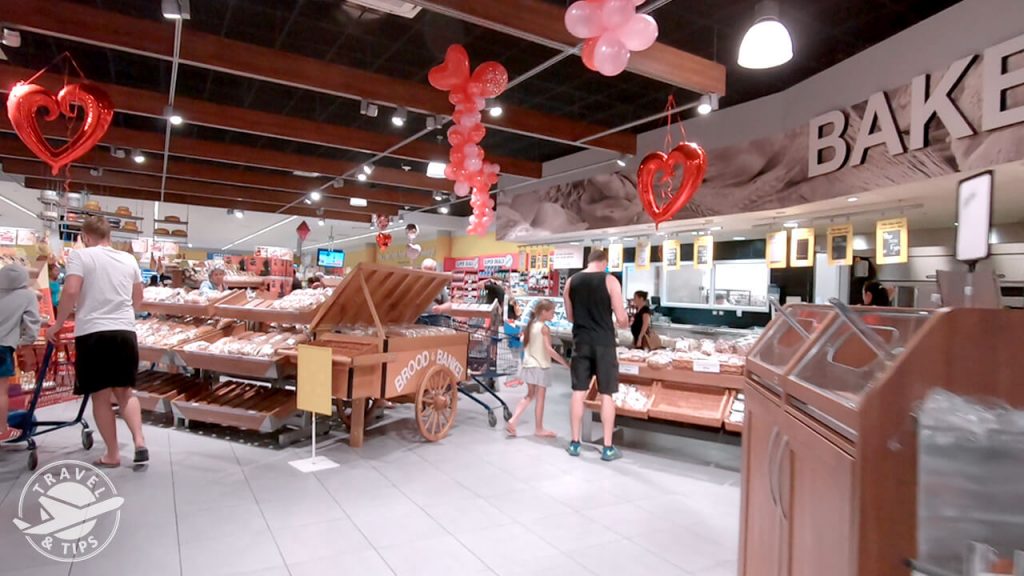 The first section that we find inside the supermarket itself is the bakery, you find all kinds of cakes and breads, industrial or freshly baked, however the latter are the best sellers and if you go at night you will not find many. a chopped bread made by them varies between 4 to 6 florins (2.2 – 4 usd).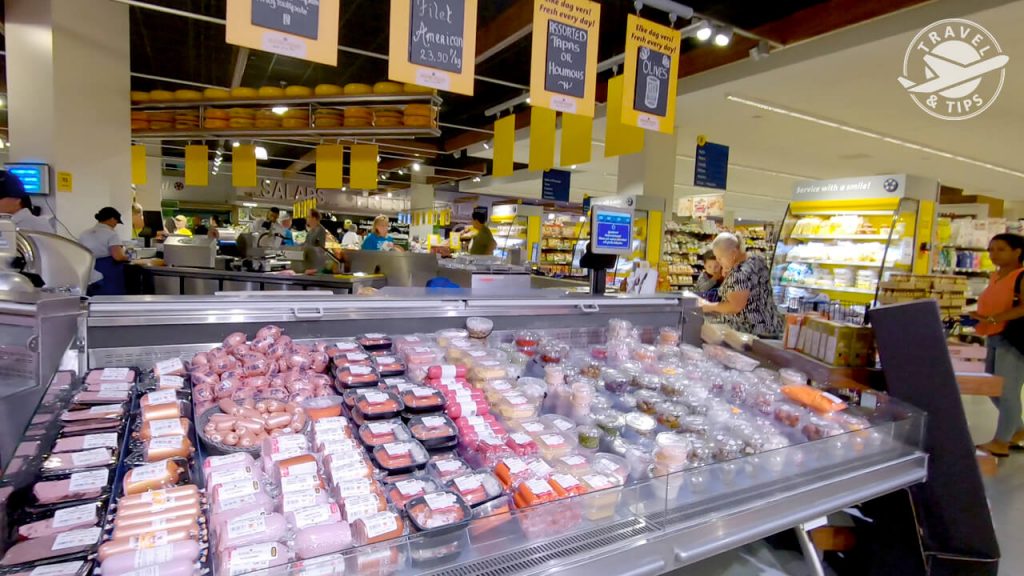 Then we go to the meat and sausages section in search of ham for sandwish, there are so many options that we have trouble choosing, we finally decided on some slices of smoked ham that cost 4.13 afl (3 USD) approx. 5 slices It is cut and packed by the same supermarket, everything you find that is its own brand is much cheaper. You can choose from many types of meat, turkey, beef, pork or fish, all very well presented and fresh.
Next you find the special section of the supermarket, the cheeses, this is why Super Food Plaza is a Dutch supermarket, remember that Aruba belongs to the Netherlands and there the cheese is a national product, from Europe they send large shipments with all kinds of cheeses, so much so that you transport yourself to the old continent when you surround this section. you find salads with cheese, cheeses in cubes, sliced, in spheres, in triangles etc. in addition to cheese in all colors, even a green one from wasabi!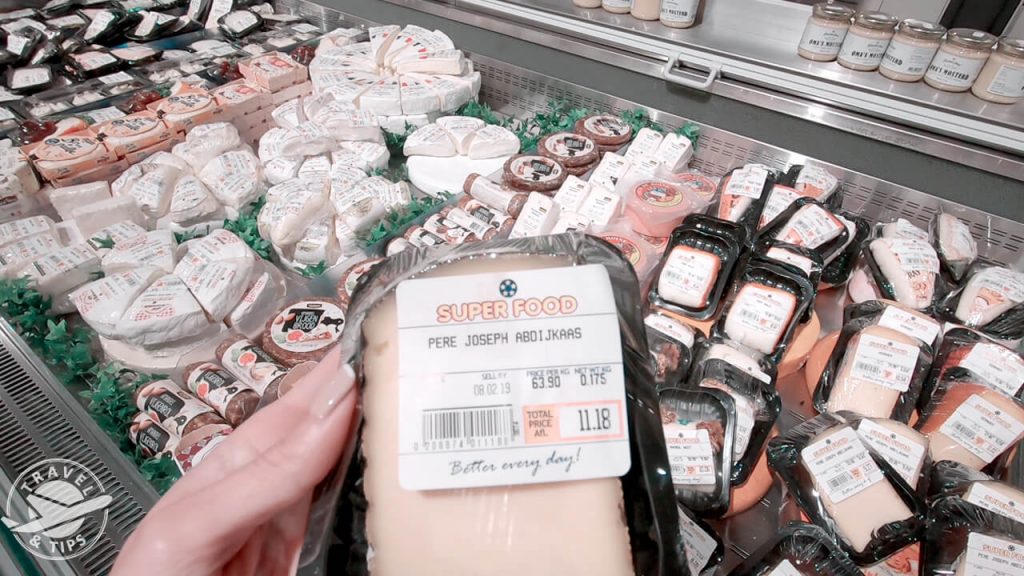 We are not cheese experts and we really have a hard time choosing, we try to find a traditional cheese that we know but there are so many varieties that are overwhelming, additionally the name of the product (on the label) is in Dutch and it takes us a long time to translate, reference at prices for example a cubed Gouda cheese costs 6.6 afl (3.8usd), grated Mozzarella cheese 4.29 afl. A well-known cheese worldwide, is that of the Old Amsterdan brand, a matured with strong character, you can buy it full or in portions, a vacuum packed package costs 21.25 afl (12 usd). A portion of cheese "Raclette" semi-cured cheese, from Switzerland from the canton of Valais (obvious when writing this post I can easily search on google), 11.94 afl. It really is a palace for connoisseurs and cheese lovers.
Liquors are also a strong point in this supermarket, especially beers, in the boxes you can see that the vast majority of tourists carry some type of beer, because of the high temperatures it is a product that is sold a lot, here they have brands of everything the world, a six pack of Budweiser costs 25.3 USD and of course Aruba's own beer "balashi".
In the Netherlands they strive to provide healthy food so you find many drinks, protein shakes and even healthy treats, without sugar or preservatives etc. In Latin America we get used to the fact that sweets in general are quite "sweet" with a lot of sugar and with the 5 packages of sweets we buy, we feel a substantial change to what we are used to, we found them very soft even without flavor, it is a matter of custom, after a while we already liked them. In some products all the information is in Dutch so it is recommended a translator on the cell phone, and especially use the recognition function with the camera of your smartphone. In this way we found very good hair treatments, although we did not understand anything he said, the cell phone helped us and my wife liked it a lot, it is a keratin treatment although I do not remember the brand very well.
For children the cereal section will be a great world, it has world-renowned brands such as kellogs, Jumbo, Nestle, Post but also many brands that are not marketed in our continent. You find all the presentations, so you can choose the one you need according to the days you are in Aruba.
It is definitely a place to visit if you are not in an All Inclusive hotel, even more so if you are in a rented apartment, you will find everything in one place and with great service. The supermarket website is: https://www.superfoodaruba.com/ if you want to know a little more.
What are the prices?
Below you will find some prices of products that were valid when we visited:
Apple pie 15.9 AFL
Strawberry cake 28.95 AFL
Fruit cake 40.95 AFL
Slice of cake 4.69 AFL
Large chopped wholemeal bread 4.85 AFL
Small chopped whole wheat bread 1.89 AFL
Papagena coco cookies 4.55 AFL
Mega Lollipop 6.39 AFL
Olives 5.95
Mango chili 7.25 AFL
Aioli 6.9 AFL
75 grams of smoked salmon 8.75 AFL
Anchovies 6.95 AFL
90 grams of shrimp 8.49 AFL
Macaroni mix with spaghetti 10.76 AFL
Kilogram of smoked ham  4.95 AFL
Ham slices 4.95 AFL
Salami Slices 4.01 AFL
Serrano ham sausages 10.59 AFL
150 gr of chorizo 6.33 AFL
Gouda Cheese Cubes 6.58 ALF
Vacuum portion of Old Amsterdam cheese 21.25 AFL / 12.15 USD
Raclette portion 11.94 AFL
Pere Joseph 11.18 AFL
Dutch cream cheese with ginger portion 3.14 AFL
Maasdam cheese 0.7kg 13.07 AFL
Wasabi cheese 0.3kg 11.64 AFL
Slices of fresh cheese (sandwish) 5.25 AFL
Slices of ripened cheese (sandwish) 7.95 AFL
Cheerios 2 pack 24.95 AFL
Cinnamon sticks 2.75 AFL
Wine gums 3.95 AFL
English licorice candy 5.95 ALF
Peppermint Gums 3.25 AFL
Yellow Tail Merlot wine 17.39 AFL
Pujol wine 21.49 AFL
Flamingo wine cocktail 15.49 AFL
Estimulo wine malbec, cabernet o sauvignon 16.89 AFL
Menk Dutch Licorice 5.79 AFL
Jumbo microwave popcorn 2.98 AFL
Sixpack Anchor California Lager 45.69 AFL
Sixpack Abita Andigator 40.59 AFL
Ballasst Point Sculpin bottle IPA 8.69AFL
Balashi chill 3.29 AFL
Welch's multigrain fruit puff pastry 6.79 AFL
Baking potatoes kilogram 4.19 AFL
Tomatoes Kilogram 9.49 AFL
Chirivias Kilo 8.49 AFL
cubanelle peppers kg 8.49 AFL
Uncle Sam Cereal 9.85 AFL
Granola udi's 14.49 AFL
Superfood banana Cereal 17.59 AFL
Gorilla Munch Cereal 12.79 AFL
Honing Rings Cereal 4.25 AFL
Honey Bunches Cereal 14.09 AFL
Fruity Pebbles Cereal 12.75 AFL
Marshmallow Mateys Cereal 6.75 AFL
Captain Crunch Cereal 7.35 AFL
Corn Flakes Cereal without gluten 5.49 AFL
Lucky charms Cereal 10.28 AFL
Rice krispies Cereal 10.28 AFL
Froot Loops Cereal 10.28 AFL
Special K fruit & yogurt Cereal 14.7 AFL
All Bran Cereal 15.85 AFL
Froasted flakes Cereal 14.6 AFL
Apple Jacks Cereal 1.58 AFL