Nature comfortably
Excellent place to live adventures, connect with nature and the outdoors.
Positive
Clean
Food
Comfort
Attention
Activities
To improve
Bathroom a bit small
Prior to our trip to Coccora Valley we decided to spend the night in a farm – hotel very close to go out in the morning, we looked for something comfortable in the middle of nature, we chose La Cabaña Eco Hotel Due to its excellent ratings on various websites, it is located 2 km from Salento, which allows you to easily visit the town but the truth is that we did not have the need to go out since it is a very complete country hotel where you will find a variety of food and everything you need for a pleasant stay. the hotel is located in the department of Quindío, part of the coffee region of the country.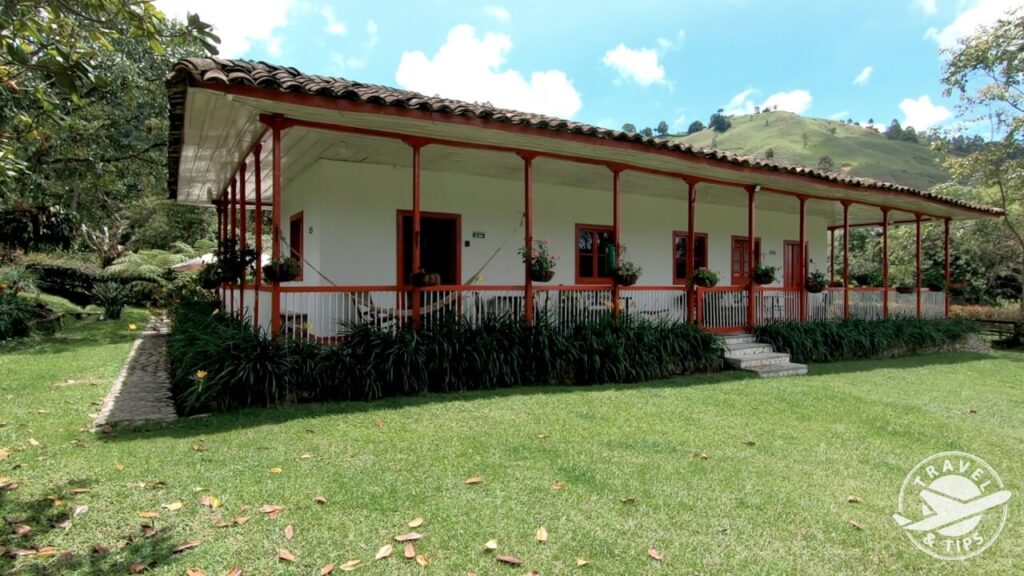 Location
Mr. Héctor and his wife welcome us, they are a warm, friendly and helpful couple, we really wanted to take a horse ride so we asked them to schedule something for 1 hour to do on our arrival, as soon as we arrived They welcomed us as a relative welcomes you and told us: your horses are ready, leave whenever you want. We asked: No need to check-in ?, Then they do it, no problem, take advantage of the day, he mentioned. So we left the suitcases in the car, they lent us boots, a hat and we went on an adventure, Juan Carlos the horse manager greets us very gently and comments on the handling and the route, we will go up to that mountain, we incredulous and somewhat worried because many years ago we did not ride, however he gives us the confidence to do so and mentions that any concern he will help us, if it seems very difficult we go back and do another route, there is no problem, he holds us the horses to get on because neither that we remembered how to do, rather complete newbies.
The ride begins on the road for about 100 meters and then we go into green meadows, we quickly reach the base of the mountain, we cross a stream and we begin to ascend, we enjoy the song of the birds and an exuberant nature, Lassie, a dog that we He accompanies takes the lead and guides on the way, after about 15 minutes we look down and a great landscape impacts us, we did not realize when we climbed so much, the landscape is spectacular, you can see a large part of the Cocora Valley, It should be mentioned that the Cocora Valley is not only the place where the wax palm trees are, but this entire valley through which the Quindío River flows. This river passes in front of the farm and from the top you can see a large part of its route. The scent of nature vibrates with the sunset, the intense green of the mountains looks like a dense carpet that covers everything you can see. it really is a ride that is very much enjoyed.
We arrive at a section that has a small collapse due to the strong winter and we prefer to cross walking, then we return to the horses to finish the ascent, little by little it gets dark and the clouds surround us as if we were in a foggy forest, the rain appears and they provide us with raincoats, the complete route would include returning us by the same path, however it is already late and since we have no practice we prefer not to do it, so at the top of the mountain we reach a road that meters later reaches the town of Salento where Don Héctor waits for us, picks us up and takes us by car to the farm.
Rooms
Upon arrival he gives us the room, the farm has 2 houses, the mountain house and the river house, the first with more than 120 years old, remodeled preserving many parts of the original, the second with about 50 years, more modern and with a great view of the Quindío river. We booked on short notice and only the double room in the mountain house was available, very cozy, neat and well equipped, the night cost 255,000 pesos (71 USD) per night per couple. In total they have 10 rooms which makes it very private and familiar.
Our room has a large king size bed with a very good mattress, equipped mini bar, hair dryer, wine, laundry service, additional blankets, television, hot water, towels and many toiletries such as soap, shampoo, shower gel, conditioner, moisturizer, all natural and high quality products.
Food
After we settled in, we were going to have dinner, we were surprised to find the restaurant so well organized with an extensive menu for all tastes, from vegan and vegetarian options, to typical dishes such as bandeja paisa or trout. We tried the grilled trout and garlic, they are accompanied by salad and patacón. personally, the garlic trout seemed exquisite, these dishes included dessert, 3 portions of sweets made with fruits grown on the farm, strawberry, blackberry, and arequipe ( sweet milk with caramel flavour), very good food and a very good price, the specialty of the house is the "Lomo al trapo" (tenderloin cooked inside a cotton cloth) that must be reserved in advance as it requires prolonged maturation and preparation. Breakfast is included in the rate and is buffet style.
After dinner we will rest because it has been a long day, tomorrow we will start early. a good hot bath and a good night's sleep, lulled by sounds of the forest and the water that passes by the river.
Facilities
When we wake up we appreciate the magic of the place, birds singing everywhere, multicolored flowers and intense green surrounds us, this area is very popular for bird watching, 152 species have been identified, proof of the natural wealth of Quindío. On the way to the restaurant we delight in every detail with which the hotel is set, niches that invite you to rest, have a good coffee, reflect or read a book, cozy places where you will always find a blanket nearby, this is very appropriate since generally, the climate is cold although variable, between 13 to 22 degrees. It rains a lot so remember to wear warm clothes.
Breakfast is varied, a little fruit, cheese, honey, egg, bacon, traditional arepa of the region (recommended), orange juice, cereal, jam, yogurt and breads. All very fresh and great tasting foods, some in fact are made right here on the farm such as yogurt, cheese, jams, among others.
Activities
We have a day with many adventures so we go on another horseback ride that will take us to a magical place. on the same horses as the day before we ventured much more confident from past experience. We cross the Quindío River over a bridge and follow a path that takes us through several farms, all typical of the region, a route that starts out simpler than yesterday's but quickly becomes more adventurous, we begin to descend through slippery terrain. that forces us to hold on tightly, as we move away from civilization the landscapes are getting better and better, bigger and more varied trees, dense vegetation and many birds.
as if that were not enough we find ourselves facing a very old railway tunnel that we must cross, you feel as if you were living a movie, later on we must cross a fairly deep ravine in which for a moment you feel that you can take the horse, however these animals are very strong and pass without problem. All this journey has finally led us to the Santa Rita waterfall, a magical place to meet nature, a place to be in silence and contemplate the roar of the water. Super recommended for you to visit.
Back at the hotel we feed the horses as a token of gratitude for taking us on such a beautiful walk, it is already noon and we have lunch right there, Don Héctor tells us to try some "lomo al trapo" that he is preparing for dinner and we are delighted, not only the tenderloin, but the very varied and delicious accompaniments.
We load the suitcases, check-out and leave for our next adventure in the Cocora Valley park, not without first thanking the owners for their kindness and hospitality and with the assurance that we will return in the future to stay for more days since the farm has many more activities that for the little time we have we are missing. for example, milking cows, feeding calves, another more extensive ride to a viewpoint, collecting fruits, an immersion tour of the coffee plantations and much more. Regarding the latter, on the farm you can buy coffee to go as a gift to the family and of course of great quality as it is grown in the coffee region of the country. It is a highly recommended place for lovers of nature and the outdoors.
In the following link you can find a very complete brochure of the activities, history of the hotel and its services. https://www.travelytips.com/eco-hotel/activities.pdf