Unique landscapes
Giant palms, birds and trails to enjoy nature.
Positive
Incredible vegetation
Fresh air
Beautiful landscapes
Economic
Easy access
To improve
Store organization
Infrastructure
Visiting Quindío you cannot miss the Cocora valley, although it is a very wide valley that extends through the Quindío river basin, it is known worldwide for a stretch of giant palms up to 60 meters high that has been the location of famous movies, image of a Colombian bill and for attracting tourists from all countries.
Location
There are multiple tour options according to the capabilities and preferences of those who visit it. Getting there is very easy, it is located 12 km from Salento, a picturesque town full of friendly and hard-working people, with multi-colored houses and native food of the region, surrounded by the traditional willy's that are the taxis with which you can move to Anywhere, you can take one to the park for about 4000 pesos per person, if you go by private car it takes about 20 minutes. You can stay in one of the many hotels in this town or in a farm very close as we did, here you can see the one we selected, in this way we are closer to the park and also enjoy additional adventures in nature. For the tour, comfortable clothing, tennis or trekking boots and even an umbrella are recommended since the weather changes rapidly as we will tell you later.
Arriving at the park is a bit confusing, this is due to multiple restaurants, shops on the side and side of the road and new "parks" also with palm trees before arriving, which confuses you a bit. You will find regional gastronomy such as the popular bandeja paisa or trout grown here, so you can easily have lunch. Each restaurant offers parking service and if you have lunch in one of them, parking is free. you can have lunch, leave your car and walk to the park. The paved road reaches up to 500 meters from the entrance, to a place called "La Truchera" precisely because there is a great hatchery of this fish. Many people offer you plans to go horseback riding to different points, it is a good option for people who do not like to walk or simply find it difficult, we spent the morning on horseback so we wanted to walk.
Prices and Fees
After parking, we started walking; From the beginning you notice the gigantic wax palms that force you to raise your head to the maximum to contemplate their tops, they measure an average of 40 meters in height and their life span can be up to 200 years, after about 100 meters you will find two parks that are becoming famous in social networks for their number of locations for photographs, the first is the "Mirador la vida bella" there are 16 stations for photography on mostly flat terrain and the entrance costs 4000 colombian pesos(1.1 USD). The second is the park "Café La Finca", although it is not the main park, it is an option for people who do not want to walk a lot and if they enjoy taking many photos or traveling with small children, the entrance costs 3000 pesos (1 USD) and the journey is about 10 minutes. To get to the main park you have to walk much more, about 400 meters, you reach a ridge and then you descend, in the background you see the last parking lot and to your right an orange and white ticket office and entrance to the park, the entrance has a cost of 5000 Colombian pesos (1.4 USD), children under 3 years old do not pay.
Our adventure
As soon as you enter there are locations to take photos such as a willy's, a swing with palm trees in the background, the cocora sign and a mule (a kind of horse). some people stay here to take photos and do not take any tour because from here you have an incredible view. We start the tour to the left along a path surrounded by flowers, you go up to "el nido" (another place with a good view to take pictures) and then you go up to the first palm trees, you immerse yourself as in a fantasy tale, you feel tiny next to these giants that surround you, a magical place that if not for the inclement weather that surprised us, we would surely have lasted a long time enjoying it.
The road continues ascending and we leave the palms to reach a cloud forest, the vegetation changes but it does not stop surprising, very close we hear thunder every 10 seconds, the signal that what was coming was great, despite the storm we decided to continue expecting to arrive quickly, but we underestimated the distance and the speed with which the storm would arrive, about 200 meters from the first viewpoint the hail hit us strongly, lightning from all sides made us make the decision to return since the descent that we should do by the Mountain would be dangerous because of the amount of water that runs off and the trees, as is well known, are an antenna for the rays, even more so, being under the highest palms in the world.
We ran looking for a roof but we were quite far, descending carefully and dodging streams that formed in minutes. On our return we took refuge in a house where they serve hot drinks and we were super grateful to have an aguadepanela with cheese and bread (7000 pesos, 2USD) perfect to take some heat in the middle of the intense cold that we had with wet clothes. Together with about 50 people we waited for the rain to subside to leave the park. even locals and workers were impressed by the way it rained, they told us that it hadn't rained so hard for years.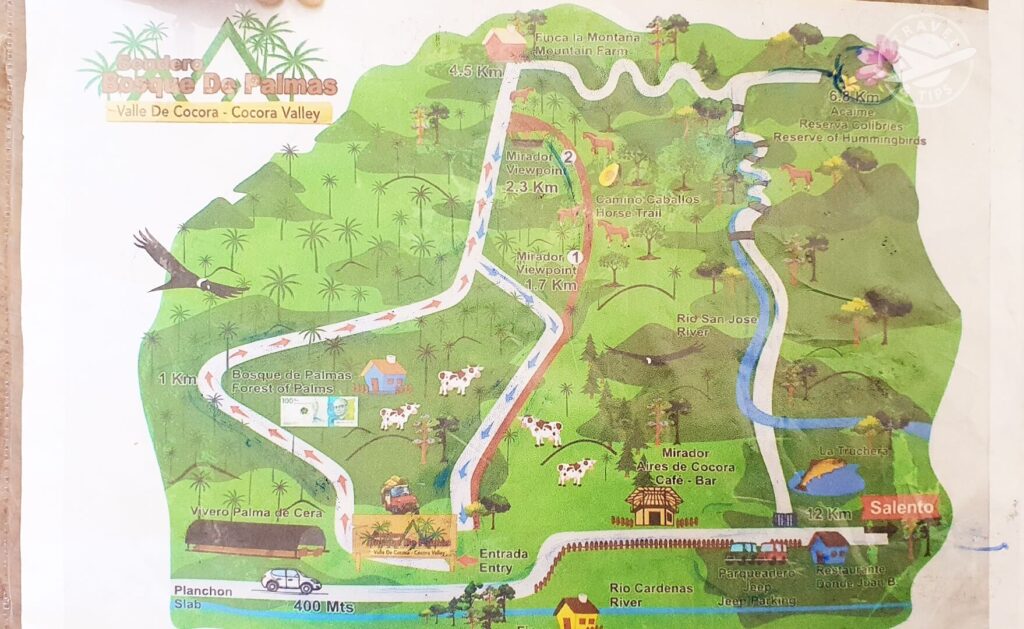 Short Tour
The route that we had in mind to do is one of the shortest and consisted of going up to the two viewpoints, then going down the mountain to the main ticket office. Even being the shortest, it supposes a moderate physical condition since it is uphill. The first viewpoint is 1.7km away and the second 2.3km, it is the route that most people take and when you reach the second viewpoint you can return along the path used by the horses to return to the ticket office.
Full Tour
For the more adventurous and lovers of hiking, the road continues much further, a journey that takes a total of 6 hours, By the way, the bird of Colombia is the condor and from the viewpoints you can see them very easily. After the second viewpoint, you continue climbing until you complete 4.5km where you will arrive at the "La Montaña" farm, then after approximately 1.5 km you will reach a crossroads where you can take a detour to visit the hummingbird reserve, its name is Acaime, according to the testimonies of people we hear is a house with several hummingbirds but if you already know them it is not necessary to ascend there, it is a fairly steep climb that then you will have to descend to return to the main road, the entrance to the house has a cost of 5000 pesos ( 1.4 USD) and includes a drink like the famous aguadepanela. The road continues and holds more surprises as 7 thin bridges are crossed where the vegetation and fauna will make you fall in love and will test your skill to cross them, they are on the San José River. It is a route only suitable for people in good physical condition, in total it consists of 12 km that end on the main road. For this tour it is very important to bring good hiking boots, hopefully raincoats, water and snacks since there are not many places to eat.
We returned to the car with all our clothes completely wet and in the middle of streams into which the roads we climbed were transformed into. Even without having covered it all, we loved this park, with a lot of vegetation and trails to exercise, definitely a great experience that you cannot miss.