Wild terrain
it's not for everyone
Positive
Beautiful landscapes
Many points to travel
Good for people who love hiking
Very gentle staff
To improve
Desert there is little vegetation and shade
Some routes are difficult
Little signage
Hello travelers of Travel &Tips, this time we visited the Arikok National Park, on the Aruba island, it is a rather large park, in fact it covers 20% of the territory of Aruba, its terrain is wild and desert, mainly formed by volcanic rocks, so it is recommended to visit it in 4×4 vehicles. If you want to visit it completely, you must arrive early, open at 8 am and close at 4 pm, we arrive at 11 in the morning and we can not go through it all.
Prices
You can buy the tickets at any of the entrances and they cost 11 dollars, children under 17 are free. Next we leave you the maps that the park provides, if you want to consult more detailed information you can enter to the official website: http://www.arubanationalpark.org/main/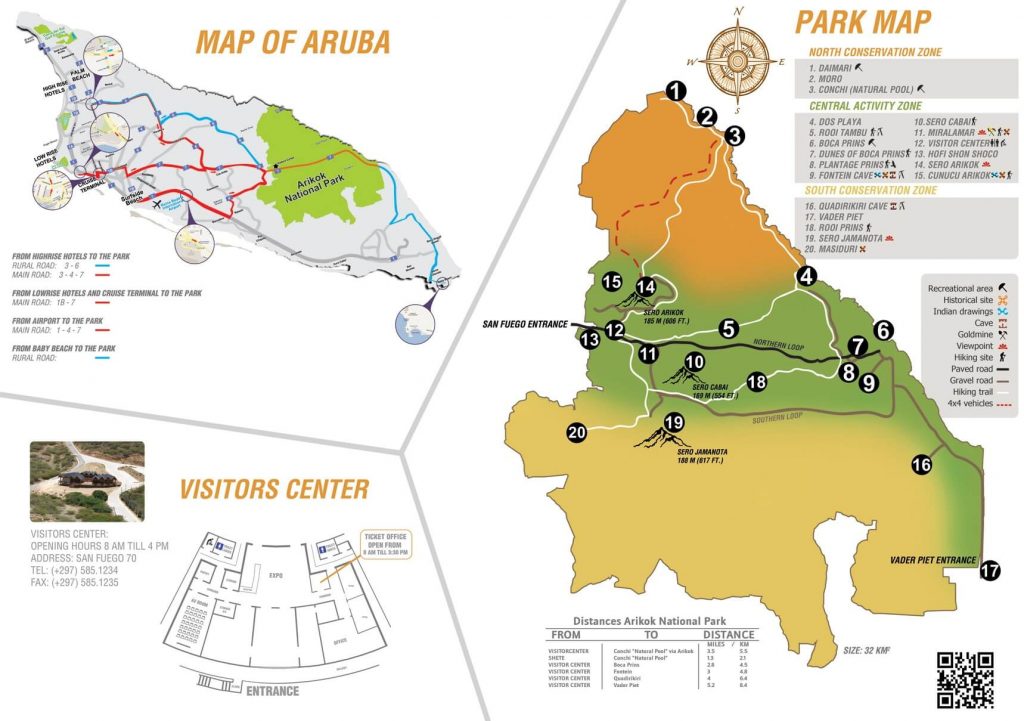 How to tour
To visit you can rent a car or you can hire a tour, the tour costs approximately 100 dollars per person and they take you in groups of 10 to 20 people in 4×4 vehicles or in buggy vehicles (a little more expensive) the positive of these tours is you will not get lost and you do not have to worry about driving in difficult conditions, they take you quickly from one point to another without losing time and so you can visit all the attractions of the park.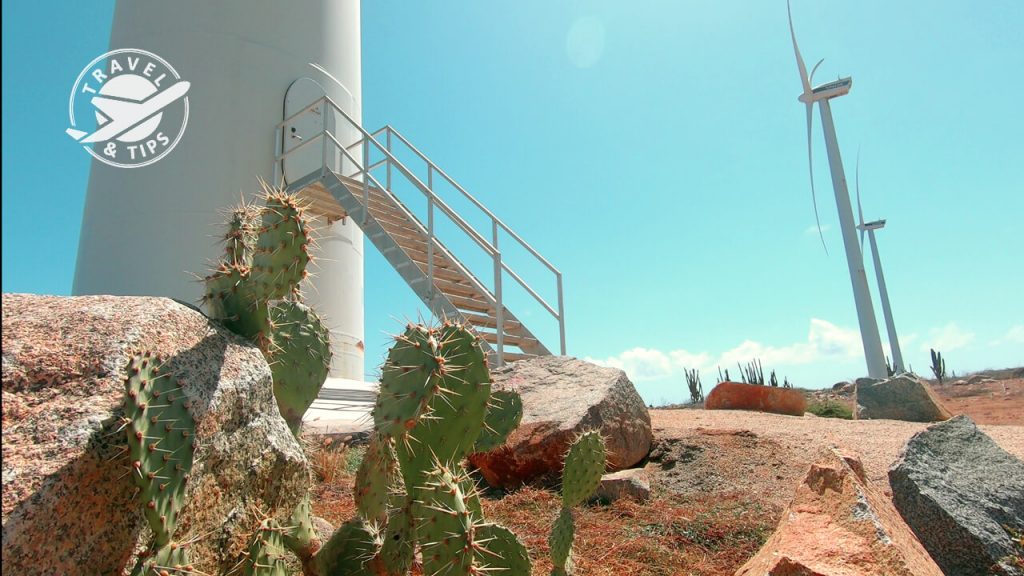 The negative point is that you can not stop where you want and for that price you can rent a vehicle. If you decide to rent a car, the cost of a 4×4 Jeep is approximately 180 to 200 dollars depending on the season, so if they are 2 or more people would be much cheaper this option, however you must have experience on rugged terrain (there are roads with very large rocks) and a good sense of location since in some parts it is not well marked.
You can enter the park by two points, in the northern part you will find the main entrance and the visitor center, you will arrive here if you come from Noord or Oranjestad, in the southern part there is another entrance that will help you if you come from San Nicolaas city.
We enter through the southern part, it is called the Vader Piet entrance, it has a great view of the sea and a wind farm, although the wind turbines are not properly inside the park, they mark the limit of this one. We personally prefer this entrance since all the time you are facing the ocean and the breeze is very refreshing, remember to bring enough drinks, it is very hot and there is only one restaurant inside the park.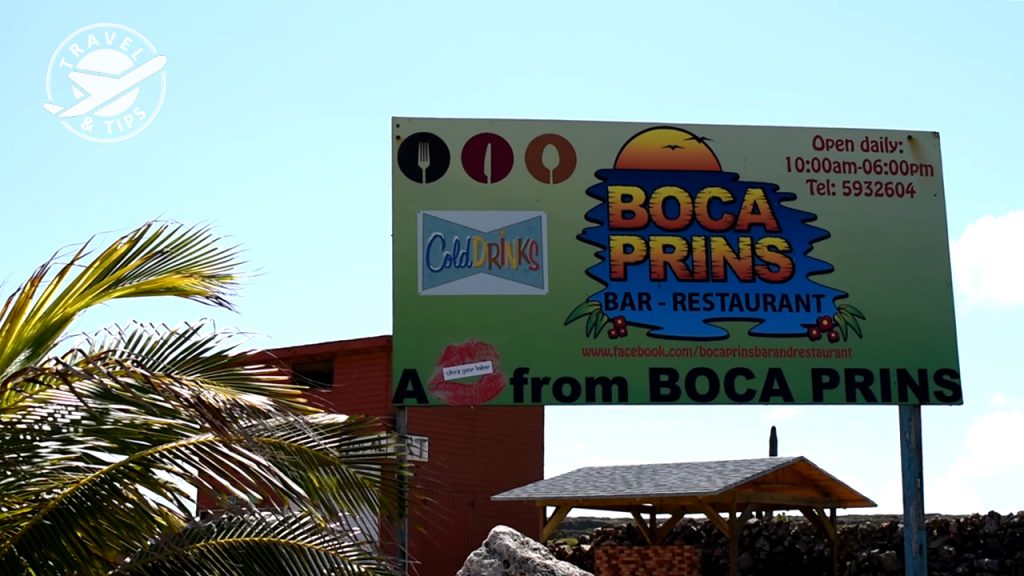 By this entrance you arrive at this restaurant very quickly, in only 10 minutes, its name is Boca Prins, it takes its name from one of the attractions of the park that is located a few meters away. There we had our lunch, the food is good, although the portions are a bit small, the average plate costs 23 dollars, it is also a bar so you can go and drink only.
Boca Prins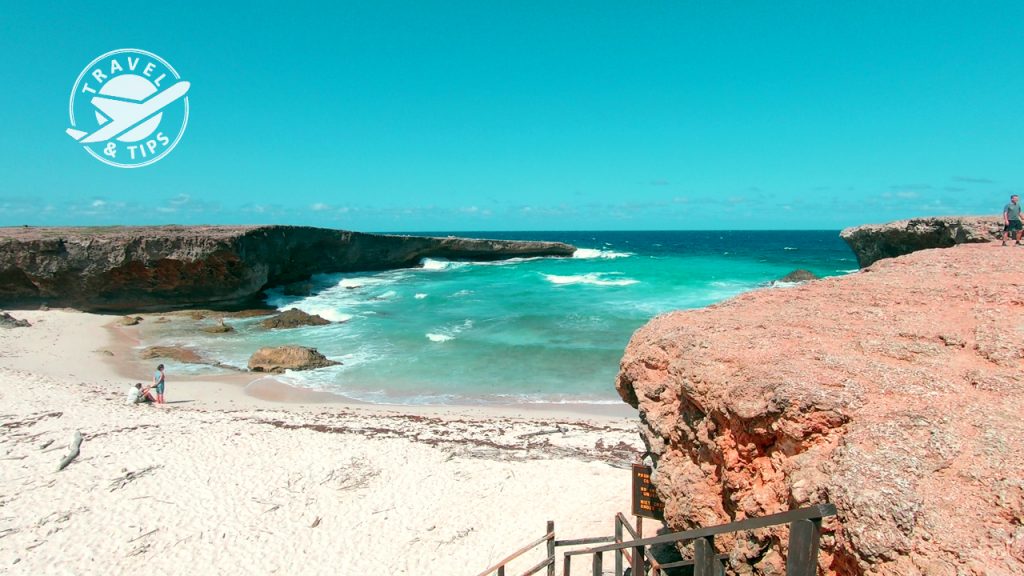 After lunch we go walking to the Boca Prins viewpoint, it is a beach with giant rocks on the sides. There are some small stairs that you can descend, the waves are very strong and not suitable for swimming, you can contemplate the strength and breeze of the sea. I think it is a must stop if you go to the park, the color of the water contrasts with the rocks that surround it and with the aridity, when you walk and you find this beach it seems like an oasis in the desert; and is that the park is extremely arid, if you are going to take long walks or take the hiking routes make sure you bring enough water (at least one liter per person), hat or cap and lots of sunscreen since there is no shade.
Sand dunes
As we have little time we must follow quickly to the next attraction, it is visible from where we are and it is the sand dunes of boca prins, it is a wide section of sand that ends at the beach of boca prins so you can go walking although It takes about 20 – 30 minutes, these dunes have covered a bit of vegetation so they will look a little different from what some videos show, you can also arrive directly by car taking the paved road and then turning off to the right.
Fontein cave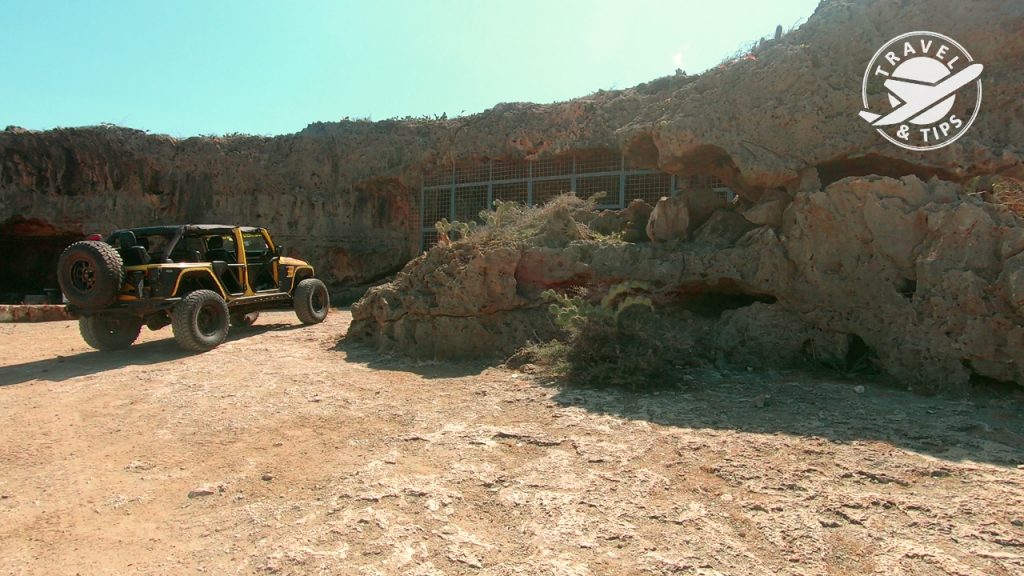 We return a little to visit the Fontein cave, in the restaurant they recommended it and we want to know it, it is quite close to the place where we are and we arrived in about 4 minutes, upon arrival you find an impressive entrance, enter and walk along the path of rocks, it is quite small but it has a lot of history, you can see pictograms of ancient tribes like the arawak, stalactites and stalagmites, however the height goes down very fast and you can not walk much, the humidity is quite high and if you have problems with enclosed spaces it's not for you. We recommend you to enter when the guides are there so you can appreciate all its historical value, it is not allowed to take pictures with flash. Outside there is a pond of water with many fish and if you put your feet they will clean the dead skin.
Dos playa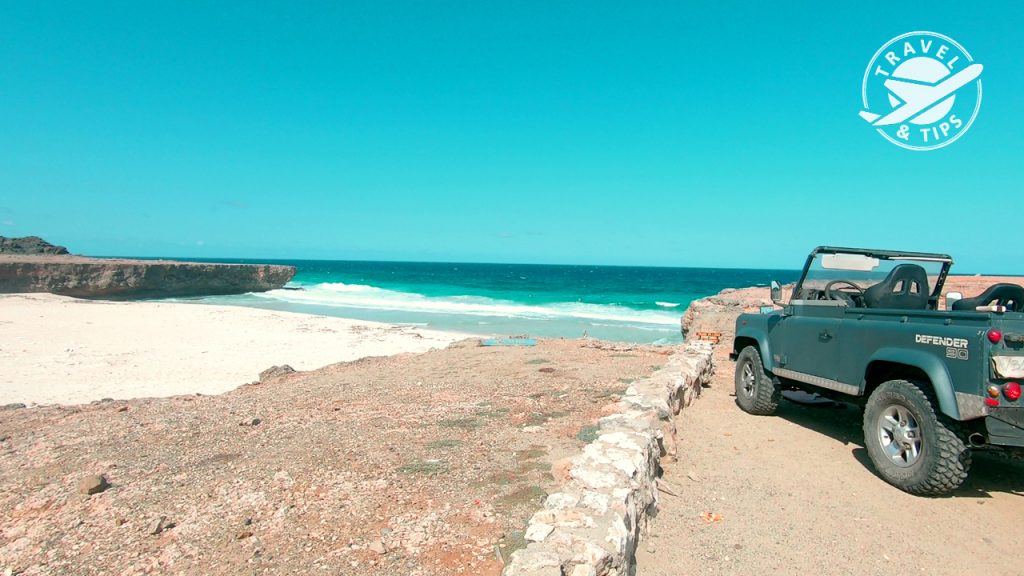 We take the road to the north to visit "Dos Playa", the road is a bit rough so we recommend a 4×4 although we saw some sedan cars, from this point and if you are adventurous you can take a walk to "Conchi" the natural pool, the distance from Dos Playa to Conchi walking along the coast is 2.5km so you will need a good physical condition and plenty of water, if you go in sedan car is the option you would have to visit, if you have a jeep you can take another route from the visitor center which is a 40 minute adventure.
Conchi natural pool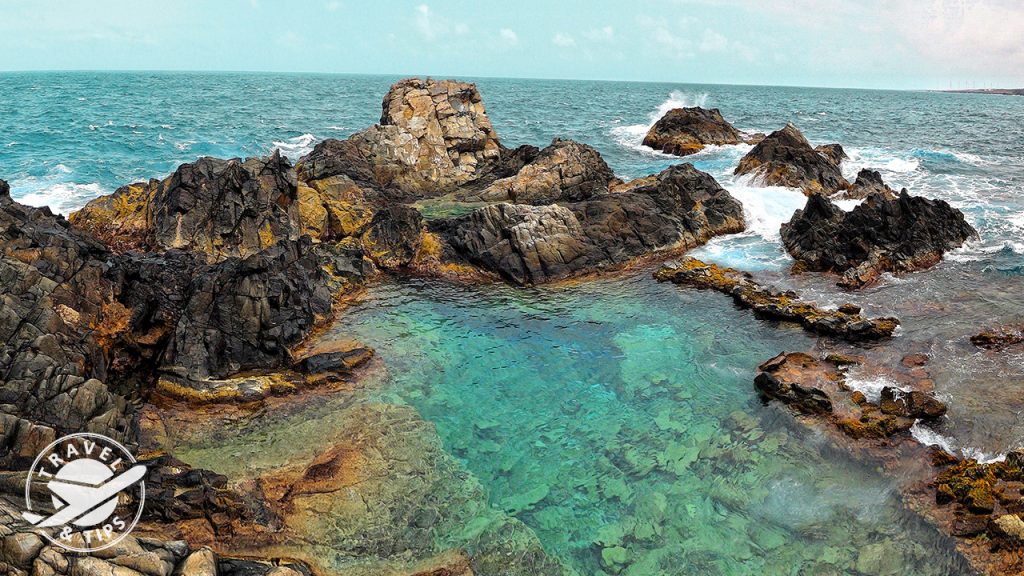 Dos playa is a very used place to surf for some people however it is forbidden to enter the water by the strong waves, as it says its name are two beaches divided by a rock platform and the landscape is charming, similar to boca prins but much larger.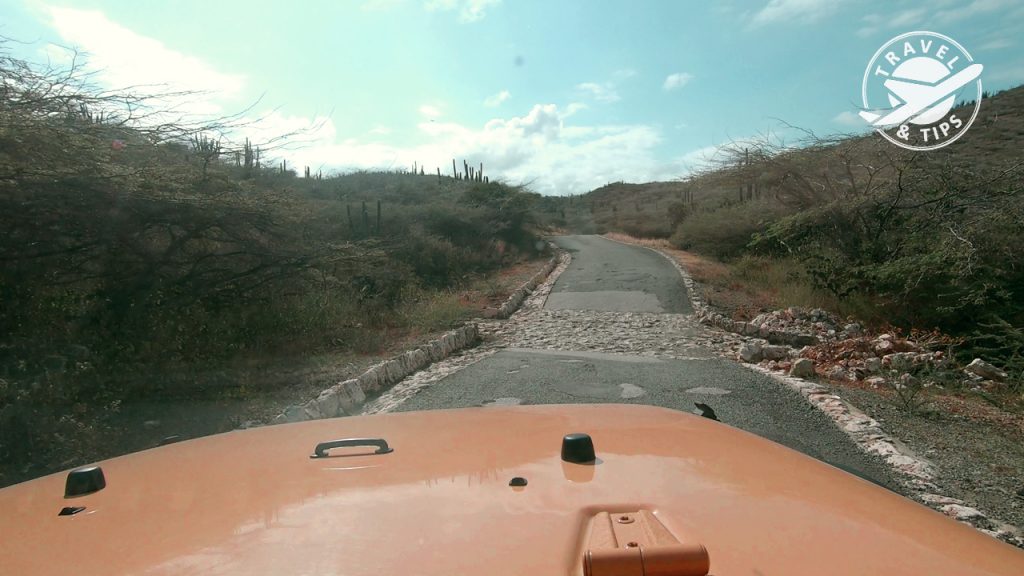 After this we take the asphalted road to get to know the visitor center, this road is much simpler and crosses the park wide, remember that the speed limit is 20km / h for safety of the park's fauna, there are some stone trailsthat interrupt the road and allow animals to cross more naturally. In the visitor center you find all the information you need from this great place and bathrooms. We missed several attractions to visit but it is time to go out, so we recommend, if you want to know all the park you must arrive early, it is a place for people who enjoy arid terrain and adventure. One of the icons of this happy island. The north sector of the park is reserved for 4×4 vehicles, there are signs that indicate it, however the rest of the park you can visit it in sedan, in the map you can find what type of route it is.
Location: