Fresh seafood facing the sea
A place to visit with friends, drink and eat something light in front of the sea.
Positive
Very fresh food
Beautiful view
To improve
Few options on menu
Attention and preparation time
Installations
If you are a lover of seafood and fresh fish, you may like this place, it is Aruba's flagship, its name is Zeerover which means pirate in Dutch, located in Savaneta. It is an informal pier – restaurant where fishermen come and prepare what they have caught during the day, it is ideal to visit after the beach, it has a simple and relaxed atmosphere.
As we told you before, we stayed in Oranjestad and the rented car had already been delivered thinking that our remaining routes were short. it was a small mistake to leave this visit for our last day. It's Sunday at noon and we're tight on time because we have to be at the airport at 3pm. We estimate 2 hours for lunch, we plan to arrive at 12:30, have lunch until 1:30 pm and return to the hotel at 2pm but we were wrong …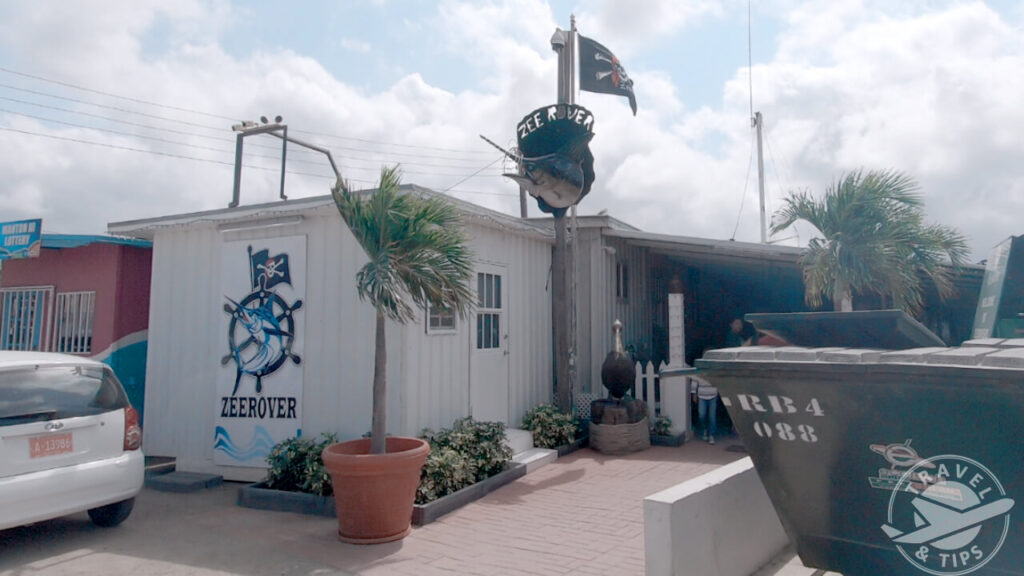 Como llegar?
We take the arubus to the south of the island on the Rte1 route for about 25 minutes until we reach the Savaneta sector. We got off and walked about 500 meters since the restaurant is not on the main avenue. We arrived at 12:40 p.m. and we didn't recognize the place quickly since the entrance is a bit small and we had something super big in mind because of all the comments we had received. We definitely recommend you go by rented car, so it will only take you about 15 to 20 minutes to arrive and plan your visit the day you go to San Nicolás because it is very close.
Menu and prices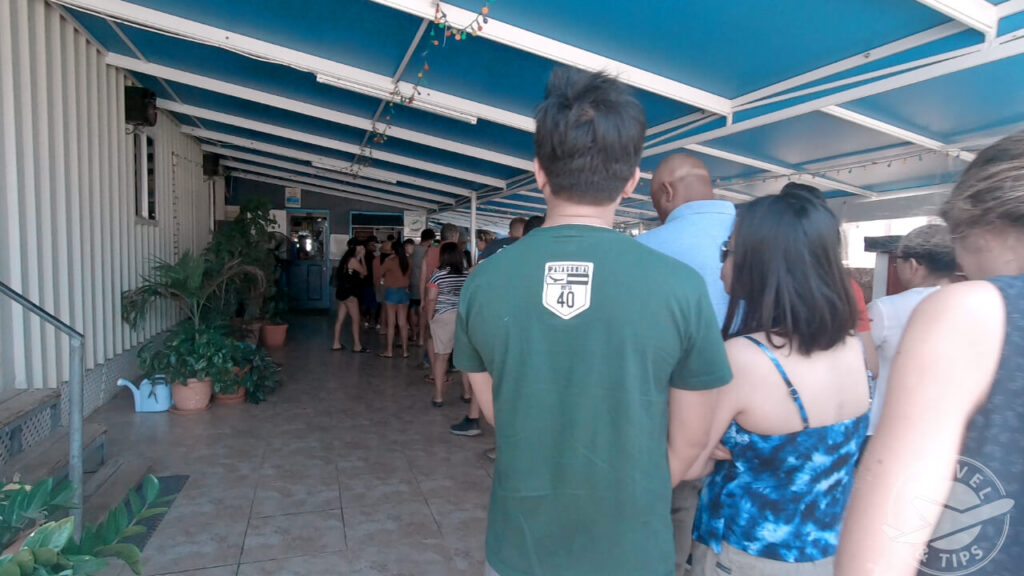 Upon entering we were surprised by a long line to order, there is no table service but it is self-service. Once there we decided to wait so as not to leave without trying this highly recommended place, they quickly spent 40 minutes in line, it turns out that it is a very popular place and visited by locals on weekends, when we get to the checkout to place our order we see The menu of the day, mainly, fried shrimp and mahi-mahi fish, a bit short for our liking, we imagined a greater variety but it is understandable since everything is very fresh, it is limited to what the sea has provided that day. As garnishes you can choose pickled onions, fries, plantain or corn bread.
Something to keep in mind is that they do not receive cards, they only accept cash. They do not specify the prices on the menu, the food is sold by weight and in the end they give you the total but don't worry it's quite cheap, with 30 usd 2 people eat. the preparation of the food is fried, they take your order and dip it in oil, the whole shrimp without removing the tail or head, it is a very relaxed place but not suitable for all people. Without having much variety, we chose a portion of fish, a portion of shrimp and a portion of fries.
After placing the order we must go to one side of the box (to the bar) to order the drinks, then we look for a place to wait for the food, there are tables outside, on the dock with a great view of the sea and others under roof , more spacious for larger families. Fortunately due to the number of people they installed an additional table outside and we took it, while we enjoyed the landscape we remembered that the holidays were about to end and we could not relax for the time so we asked how long the order took approximately and we were stunned, 1 hour on average, they responded to us. There we thought that we would have to return without having lunch because it was approximately 1:30 pm.
We explained our situation to the restaurant staff, we had to be at the airport at 3pm, we showed our boarding passes and they very kindly helped us expediting the order, 15 minutes later we were enjoying our plate. really a special thanks to these people who helped us.
We practically ran to the avenue to wait for the transport and another big mistake, we did not know that the arubus on Sundays runs every 40 minutes! when we found out we took a mini van that took us in half an hour. we finally got to the hotel and from there to the airport. 20 minutes late but there was no problem.
It is a place highly recognized and appreciated by locals and tourists, ideal for an informal lunch with friends, eating and drinking in front of the sea, a simple and unpretentious meal but with an excellent view of a deep blue sea.